Stop us if you've heard this one before.
In the spirit of full disclosure there's no joke in this post… so we apologize if you were looking for a zinger to share at the dinner table tonight.
As it becomes increasingly unlikely that a vote on the American Health Care Act (AHCA) will happen today (or tonight), we begin to wonder what implications a further delay in tax reform will have on the markets.  In all likelihood, the bulk of investors have come to expect that tax reform will be a topic for next year.  We tend to agree.  However, the dissension within the GOP over the AHCA raises the possibility of a less-than-smooth road ahead for Mr. Trump and his business-friendly reforms.  Granted, health care is a notoriously divisive topic even within parties, and we would expect that tax reform to be the tie that binds the GOP, so maybe building the wall of worry is premature.  Business sentiment certainly supports holding on to hope: the OECD's Business Confidence Index for the United States came in at 100.95 for February, which is above the long-term average of 99.79 and well above the 12-month moving average of the data.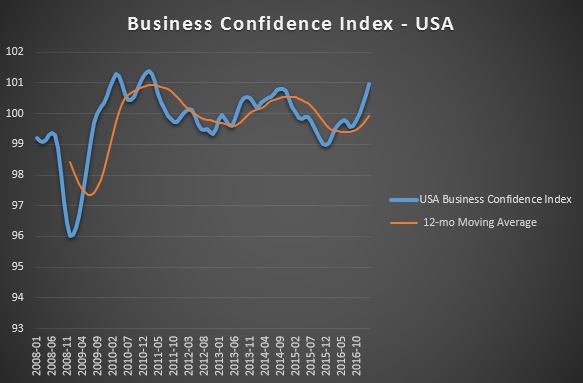 (Source:  OECD, Targeted Wealth Solutions)
This qualitative measure of economic conditions is echoed in the Small Business Optimism Index here in the U.S. as well: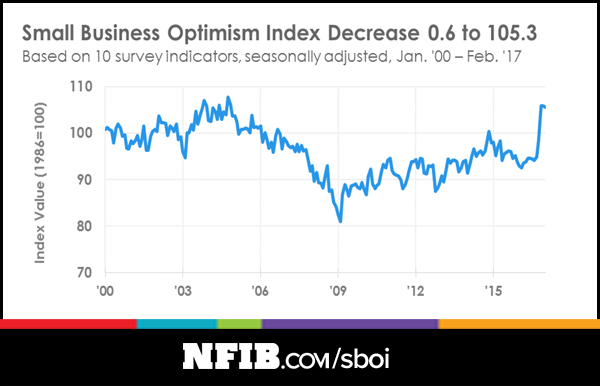 That's a pretty impressive jump in the series following the election.  Business owners are expecting a lot from Washington, to include substantial and meaningful tax reform and regulation roll-back. 
So back to our joke — have CFOs been walking into banks for loans?  Wouldn't it make sense to act on the increasingly optimistic outlook and put some credit to work funding new projects?
The action in Commercial and Industrial Loans doesn't support that theory: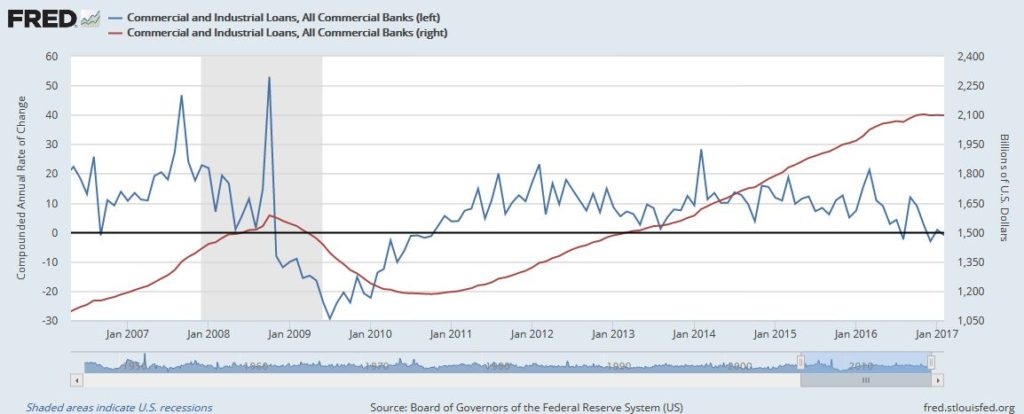 (Source:  St. Louis Fed)
The red line shows the amount of money loaned to businesses — take a look at the stagnation around the election that's continued to persist.  The blue line is the compounded annual rate of change, and the downward slope captures this lack of growth.
So what gives?  Perhaps it takes some time for optimism to translate into motivation (or belief that the underlying positive economic conditions are persistent) before that CFO walks into a bank: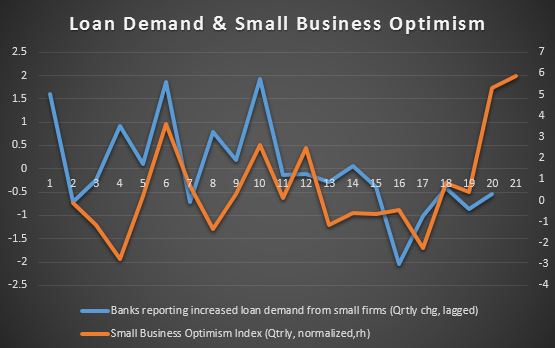 (Sources:  St. Louis Fed, NFIB, Targeted Wealth Solutions)
Looking back quarterly since 2012, there may be a delay between small businesses reporting improving outlooks and actual credit demand.  This back-of-the-napkin analysis is too rough to draw any conclusions, however.  But we are interested in seeing how businesses invest as the year progresses and how the demand for commercial loans plays out.  There's an impressive debt overhang in the S&P 500 (excluding financials):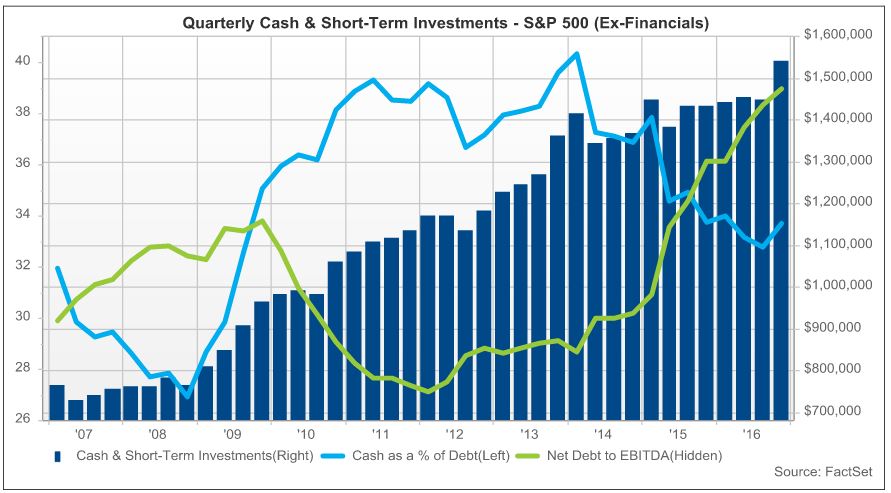 (Source:  FactSet)
The quick version of this chart is as follows:  The ratio of debt to earnings is at an all-time high.  While cash and short-term investment balances also reached an all-time high, the amount of cash as a percentage of company debt has been in a downtrend since late 2013.  That should tell you just how much debt is on the books of S&P 500 companies (again, excluding financial firms). 
The debt overhang could play out in tightened lending standards and reduced loan demand.  Again, we're interested to see how the credit market looks a few months from now.  Auto loans have seen plummeting demand on a year-over-year basis since last summer, and the recent weak performance in oil has coincided with weakness in the junk bond space. 
Credit greases the wheels of the economic machine, so we're watching it closely.  We wouldn't be surprised to see stagnant credit demand going forward as the debt overhang persists and political maneuvering pushes tax reform into next year (and who knows what the final package will look like).
[UPDATE]:
As I publish this, I see the alert that the AHCA vote has been delayed.
—
Mention of products, providers, or services does not constitute an endorsement, recommendation, or relationship.
The information presented here is for informational purposes only, and this document is not to be construed as an offer to sell, or the solicitation of an offer to buy, securities. Some investments are not suitable for all investors, and there can be no assurance that any investment strategy will be successful. The hyperlinks included in this message provide direct access to other Internet resources, including Web sites. While we believe this information to be from reliable sources, Targeted Wealth Solutions LLC is not responsible for the accuracy or content of information contained in these sites. Although we make every effort to ensure these links are accurate, up to date and relevant, we cannot take responsibility for pages maintained by external providers. The views expressed by these external providers on their own Web pages or on external sites they link to are not necessarily those of Targeted Wealth Solutions LLC.