The family and I try to go to Salida, Colorado as frequently as logistically possible with small children.  If you've never been, it's a pretty awesome place… rivers, mountains, pastures, patios with good beverages… all the good things, really.  One of the key features of the city is Tenderfoot Hill, a nice trail system across the river and old railroad tracks from the main drag (F Street).  You can't miss it: It has a gigantic "S" on it, and is a siren call to hikers young, old, and those obligated to prove to their kids that they still have some sort of athletic ability left in them.
On our most recent trip, I asked the oldest kid why she wanted to hike the trail every. single. day.  She replied, "to get to the top so we can get that awesome view," which made me think about why I wanted to hike the trail.  My internal rationalizations all centered around an intangible and unmeasurable theoretical benefit:
Quality family bonding through a sense of adventure
Why, this is the yearning of all dads who throw on the ridiculous child-carrying-backpack and lug a 30-pound toddler up a cliff face… right?  In all honesty, I bet most parents look at things this way.  Somewhere along the way between drinking Budweiser E and analyzing breathing patterns through the baby monitor, parents seem to lose the ability to capture desired outcomes in concrete terms — like hiking to the top to get a super cool view of Salida.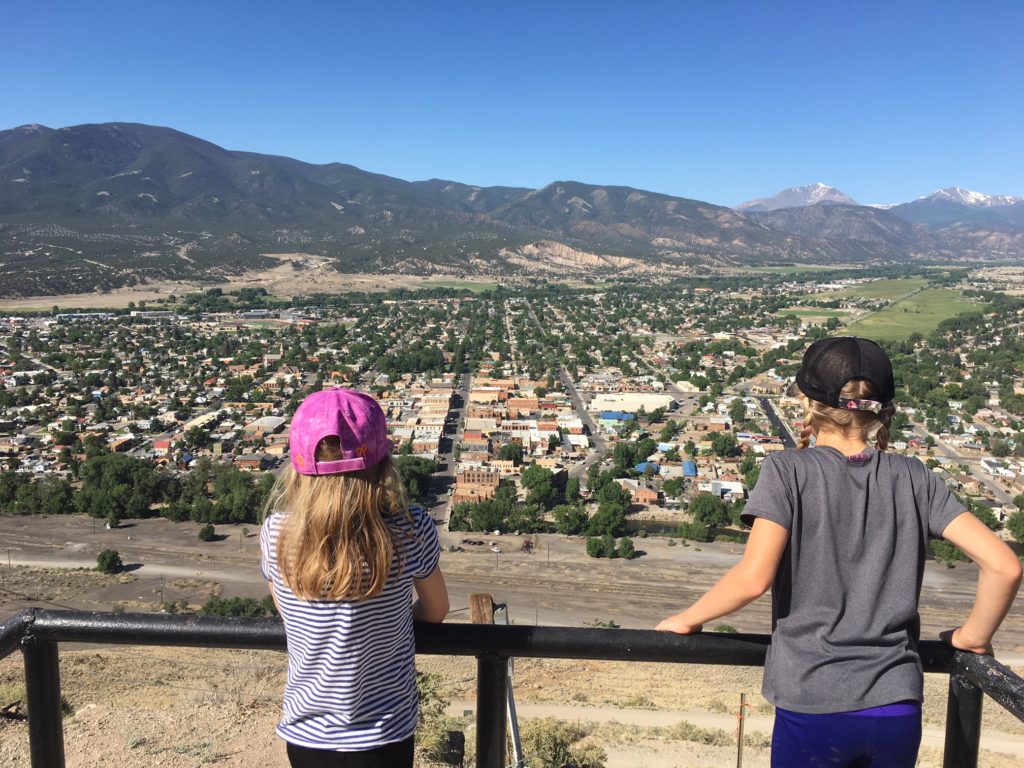 (Not pictured:  dad with ridiculous child-carrier-backpack)
And as it turns out, the tendency to forgo simple, concrete goals in lieu of unquantifiable and unbounded outcomes is a central element of what we see in retirement planning.
Confused?
Let me ask you a question:
What are you saving for in your 401(k) or TSP?
You'll probably answer with, "retirement."
Which isn't a wrong or bad answer by itself… in fact, it's pretty close to my list of "benefits of hiking Tenderfoot Hill" in terms of being really difficult to measure and judge if you've actually succeeded.  After all, what's the definition of retirement success?  Just getting there?  Not running out of money?  That's a pretty broad range of possible outcomes and lifestyles… not to mention the amount of stress along the way as you chase an elusive and ill-defined goal like "retirement."
So what's the solution?
In our minds, it starts with well-defined goals that are developed by concentrating on what's important to you, how you view money (both growing up and now), what your passions are, and how you want to use your wealth as a tool to pursue your purposes.  Saving for "retirement" doesn't cut it.  Saving for that annual family reunion, or that honeymoon that you never got to take because Afghanistan or Libya happened, or your grandkids' college, or an island, or a trip into space with Sir Richard Branson, or a lifestyle budget of $100,000 a year… these are concrete goals that you can save for.  Can you get there from here?  Maybe, but at least you'll have managed your expectations along the way instead of targeting an undefined outcome.
So what's next?
Are you ready to put pencil to paper (or keystrokes to Excel)?  Good.  Because we're launching a series of blog posts and videos over the next 3 months that are going to help you build your own financial plan.  Even if you're a diehard do-it-yourselfer with more Excel sheets than an investment banking analyst, we're confident that our approach is going to help you re-think your priorities and focus more on getting a plan in place that will help you actually enjoy the things that are special to you… instead of fidgeting with numbers, account values, and projections.
And when someone asks what you're saving for, you can confidently list out all of the goals that your hard-earned dollars are helping you reach.
—
Mention of products, providers, or services does not constitute an endorsement, recommendation, or relationship.
The information presented here is for informational purposes only, and this document is not to be construed as an offer to sell, or the solicitation of an offer to buy, securities. Some investments are not suitable for all investors, and there can be no assurance that any investment strategy will be successful. The hyperlinks included in this message provide direct access to other Internet resources, including Web sites. While we believe this information to be from reliable sources, Targeted Wealth Solutions LLC is not responsible for the accuracy or content of information contained in these sites. Although we make every effort to ensure these links are accurate, up to date and relevant, we cannot take responsibility for pages maintained by external providers. The views expressed by these external providers on their own Web pages or on external sites they link to are not necessarily those of Targeted Wealth Solutions LLC.